I was sitting here thinking about why it took us 5 years to release our next song "Upside Down", which is gonna be released onto streaming platforms this coming March on Friday the 13th.  I can't write Friday, March 13th, 2020.  It just doesn't look right, when people think of Jason and knives and all that gory stuff.
Here's the cover that won in a voting contest amongst our mailing list, Facebook, and Instagram.
Actually, this song was written a few years ago, around 2017.  Most of the tracks we're putting onto the new EP were written around that time.  "Upside Down" is super energetic, almost furious and experimental with the sounds that went into the recording, and the song has evolved tremendously in just the past few months.  If you could do us a quick favor and Pre-Save it to your Spotify right here, you'll be alerted as soon as it's ready to stream.
I'm not EVEN gonna go into how crazy the video footage is starting to look, but just think 80's Tron combined with Nintendo video game floating through a dream…I'm not even sure I'm describing that right.
There's something really emotional about all these songs being released into the universe.  First of all, I feel deep down like they're some of the best we've ever written, and the fact that "Upside Down" alone is going to be released in less than a month is kind of shocking to me, because Ivan and I almost killed each other in the process of creating all these tracks…and this band has almost slipped into nothingness countless times…to the point where it was almost impossible to find our way back into even caring about putting music back into the world.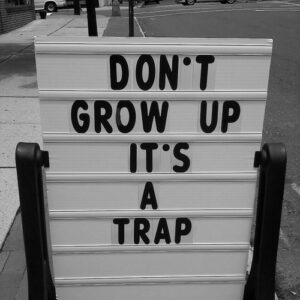 It's tough keeping a band together.  I have NO clue how bands with 3, 4, or even 5 members can even do it.  We're JUST a two piece, and it's HARD.  I think the biggest challenge this time around really has to do with growing up.
Growing up growing up growing up growing up growing up growing up growing up growing up growing up growing up growing up growing up growing up growing up growing up growing up.
I repeat that over and over again…why?
Growing Up Sucks
Cause growing up sucks.  It happens to EVERYONE in different ways.  Like, obviously we all change over time.  We get older, and things that were important to us 5 years ago are no longer important.  Suddenly there are new priorities in life that create new landscapes for us.  Life gets busy.  People who were once our best friends have moved away, gotten married and had kids.  And even when we meet up for dinner to reconnect with those old friends, something in the air has changed, we can't exactly reconnect with the old versions of ourselves, and we accept it, because it's just part of life.  A lot of us who were dreamers growing up, start to question why we're still holding on to something so silly, and we get serious, and then shove it down and pretend it just doesnt exist anymore, and we try to view the world from a new lens…while others hold on to that dream, despite the judgement from peers, and just keep on going cause it's the only thing left that keeps us sane.
I could go on and on about it, but it's pointless.  I think this is just what life is, and everyone experiences it comlpetely differently, and it's fine cause we're all on this journey together.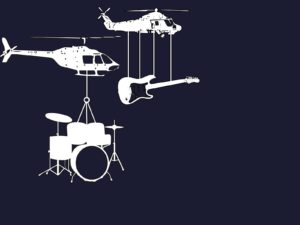 And, I think during the making of this record, we were still two guys in the practice space writing songs, trying to hold on to this innocence and love of music, while our closest friends and people we've known were moving on in their lives, and even though making music is the only thing that's ever made me feel truly alive…that feeling of CHANGE…that feeling of GROWING UP happening to US and the people around us, finding new lives, and embarking on new journeys…this uncomfortable and unsettling feeling of knowing that I have no control over this indescribable thing happening around me AND inside of me, all found its way into these songs.
The Fear Of What Others Think Of You
In many ways, it was just terrifying.  Growing up is scary.  I think there was also a LOT of insecurity within MYSELF because it's easy to feel like a loser musician when everyone else around you has become a responsible adult with jobs and kids, but here I am being reckless and just making music cause it's what I do.  It made me want to hide away from the world and not share any part of my true self with anyone because I was so scared of being judged for being who I am.  I've gotten good at not caring so much about what others think anymore, which is really important, because that's one of the biggest things that would eat away at me.  Just check out our Instagram and Facebook…it's why there's not a single post from the end of December 2018 all the way until just a few weeks ago.  I said screw it.  You can't hide away forever.
Each song we're gonna be releasing this year has its own story…but when I look over them all, the overall theme is just this collection of songs that will always be a reminder of the uncomfortable pains of change happening and growing up.  Plain and simple.  "Upside Down" is being released on March 13th.  But I don't really know what this song is about!  It's so rare for that to ever happen!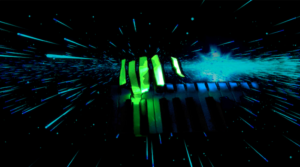 I remember how the music was written though.  I was walking to the bathroom during practice one night, and Ivan started playing this awesome beat, and then he started playing these really cool synth riffs.  And I yelled from the bathroom, "keep playing that!!!", and I ran out to the practice space, and started writing a riff on the piano to go along with what he was playing, and what's crazy is there came this part, where I heard a guitar riff in my head, so I grabbed my guitar…and I swear this song has one of my favorite ever guitar riffs from anything we've ever written, but it's the EASIEST guitar riff I've EVER played.  I could teach someone who's never played a guitar how to play it.  It's a SINGLE note on the guitar being bent over and over again.  So, I balance my way from that guitar note back to piano back to guitar within the song.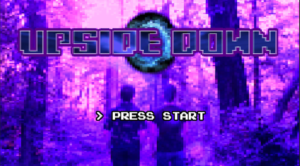 Lyrically, I remember being in a really positive headspace, and feeling like I was kind of in this meditative alternate reality dream, and the words kind of came from a place of not feeling like I was existing in any kind of reality.  I guess that's why the lyrics sort of feel "video gamey" with portals and golden skies and stuff.  And Ivan sings the chorus…which was a combination of both our own lyrics actually.  You might wanna ask him what he was thinking, but he added a lot of "bones" and "love" elements, in a creepy way…which is why you'll see a lot of skeletons in the music video that's going along with this song.
Anyway, super super super super stoked for you to hear it!  It's our first song release in almost 5 years, and seriously, it almost didn't make it into the world at all and that would have been a shame.  If you haven't yet, please click here to pre-save the song on Spotify now.  You'll be alerted the moment it's ready to stream.  There's so much more to come AFTER this too…but I'll save that for another blog post.  Thanks so much for reading.