It took more than 20 years for fate to finally catch up with me and see The Cure live.  But first, there had to be many moons and a hundred anecdotes and transcendental changes in my life.
It all started in my hometown of Monterrey, Mexico.  A rock movement was born and, and like a cherry on top of a cake, one of my favorite bands of all time, and a huge influence in my life, was coming to perform a concert.  It was The Cure live.  I couldn't believe it. This band coming to my city was an amazingly rare event, and I know that it would never happen again. And, by the way, that's exactly how it has turned out. This band never came back to my hometown again. It's an event that I should never have allowed to pass me by.
I started saving up all my money to buy a ticket. Only God knew how I would be able to gather up that much money in such a short amount of time. But I HAD to be in the front row of this concert. I had to hurry too, because I knew that the tickets were going to sell out. A band of this status combined with the fact that they were foreigners to my city meant it would sell out fast. Foreign bands rarely came to my city. The day arrived, and I had the money to buy my ticket.
I went to the ticket office at the stadium where they were going to perform.  I was about to buy my ticket, but at that moment, a very tempting idea crossed my mind. I was a drummer, and I didn't have very good cymbals to practice with to sound better with my band. Like a seductive and merciless muse, an image of a Paste Cymbal was planted in my mind.  Then heat began to rush through my head.  My hands began to sweat.
The absurd temptation to stop down the road at the Musical House (an instrument store in my hometown) was so strong.  The Musical House was on the way to the stadium where I was going to buy my concert ticket. It's almost as if the universe set a trap for me and magically, the bus I was on just happened to stop right in front of the music store. So, I got off the bus.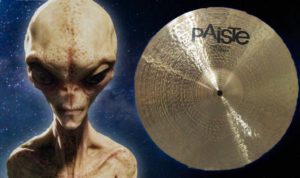 "What have I done?" I asked myself. I was trying to convince myself that I had time to buy the ticket later and nothing would change my mind.  If I entered the Musical House, nothing would happen.  But then it happened.  A 16" Paste Crash immediately became stronger than my admiration for a band that changed my life.  The desire for it was stronger than a concert that I knew would be an incredibly unique occasion.
As I mentioned earlier, It took over 20 years for fate to finally catch up with me.  I was living in Chicago, and destiny brought this band to me when I least expected it.  I couldn't believe it.  A smile lit up my face at the thought of them coming to perform, and this time, nothing in the world was going to stop me.  It was a festival – a collective event, Lollapalooza.  I was still just set on seeing The Cure at Lollapalooza perform.  So I decided to volunteer to help out for a few hours, so I could have the opportunity to see this band, in exchange for helping out.
Months had already passed since they announced the lineup, and each day became more and more exciting. The day finally arrived when they were going to perform. I didn't even know what to expect. A thousand ideas and images crossed my mind that morning when I woke up before getting ready to head to Lollapalooza to volunteer for a few hours. It almost felt the same as knowing you were about to reunite with someone you haven't seen in a very long time, like an ex-lover, and you wonder, what is this going to be like?  Will she be fat?  Will she be a millionaire?  What have I achieved in my life since we broke up?
So, I knew the band was going to perform on the south stage. But I had to work wherever the staff decided to put me. So I begged all the gods in the universe that the managers would please set me up to work near the south stage. The manager looked at me pointing to the north stage, and I uncontrollably burst out with, "the only reason I'm here is to see my favorite band on the south stage".  Well, she looked at me and smiled, and said, "ok, you can head on over to the south stage".  I can't even describe the joy that I felt in that moment.  It's almost like when you're horny with your girlfriend or boyfriend, and they deny you sex, but then they change their mind right afterwards.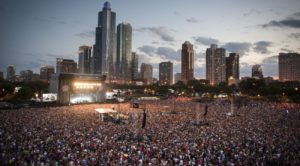 So, there I was, walking toward the south stage, like a child with a new toy, so happy and innocent.  The afternoon fell as evening came, and it gave the park a unique ambience and feel, like something big was going to happen.  It felt like that feeling you have when you're in love and everything is just so beautiful.  Everything shines, even in obscurity.  I was walking, like a caged beast on the field, walking from one area to the next, as that was my job. I carried a giant lollipop banner that said "ask me how you can win free Lolla gear". It was a promotion where people can win a Lollapalooza shirt by collecting empty bottles and cans and gather them into a special recycling bag.
I was so excited that I couldn't stay in one place for more than 3 minutes. The lights went out, and the crowd started screaming. There was a knot in my throat, and I ran toward the stage, trying to get as close as I could to the music. I couldn't distinguish between anything anymore. It was madness. It was a frenzy. I tried to calm down as much as I could and I finally could hear the sound perfectly clear.  Classic keyboards started to play, and there they were, in the middle of this artificial mist that made the stage look magical.
MY BAND was performing, and tears ran down my cheeks.  They were like racecars on a highway, and they wouldn't stop, and I just didn't care.  There they were.  The members of this band were older and fatter, and gravity had obviously done its job on them, but that didn't matter.  The first chords and the melody of the first song began to resonate throughout the park.  My eyes prevented me from seeing clearly due to the tears in them, but my heart could feel it, and my ears listened.  There he was.  The lead singer was performing with his mystic presence.
It was as if though he was singing to me, "many years have passed, but I forgive you.  I forgive you."  This is my band, the Cure live at Lollapalooza.  I think they performed for over 2 hours, but to me it was an eternity, and I enjoyed every single melody, between tears and smiles. The songs couldn't have been performed any better.  I was alone.  It was just me and my band in one of the most intense and intimate moments that I've ever experienced, and I'll never forget it.